OUR STORY
Drum With Alex began in 2012 and now has a client base of over 200 students.
It was founded by Alex Lewis, who wanted to help students discover their potential and increase their confidence. He wanted to provide high quality teaching that was fun, creative, and would develop an excitement for music.
Drum With Alex now has a dedicated team of 5 friendly and local tutors who all share the same vision, to inspire children's love of music.
Alex Lewis
Alex Lewis' dream of helping others through music came to fruition in 2012 when Drum With Alex was born. Helping students realise that lightbulb, "ah-ha" moment with a drum piece is what motivates him.
As if a thriving drum school wasn't enough, Alex has performed on TV, Radio, BBC Introducing, at weddings, pubs, and festivals! Not to mention he's the understudy drummer of the regularly-sold-out Calling Planet Earth show.
Alex has also been a part of tribute bands Blurry and The Rolling Clones. In short, he wears a lot of musical hats.
Steve Corrigan
We welcome Steve Corrigan to the DWA family! Steve, who worked at the prestigious Camden Music Service, happens to be the coolest dude ever! Steve's an exceptional drummer and well-rounded musician in general, playing the guitar and a flock of others. He's had 15 years' experience teaching, performing and recording music.
They've been on tour with the likes of Europe, Skid Row and Thin Lizzy. And if you thought he couldn't get cooler, Steve's band TOVA have recently been playing sold-out shows and have been VERY popular on Kerrang Radio! You can check TOVA out
here.
Jack Smith
The wildly talented Jack Smith joins me locally as a private tutor at the Woolton Hill Church Hall every Wednesday. Jack graduated in 2017 from the Academy of Contemporary Music with a BMus (Hons) in Contemporary Music and has since taught music and theory for 8 years. He studied under Pete Riley and Frank Tontoh, who've worked with the likes of Amy Winehouse & Craig David. In other words – he knows a thing or two about music.
Jack passes this invaluable knowledge to every student he works with, regardless of age and ability. Since graduating Jack has worked with various UK acts specialising in both live performance and studio work. Some notable names Jack's worked with are country artists Alex Tracey and Nia Nicholls. We'll say it again – Jack's had his fingers in many musical pies!
Andy Muscat-Fox
We are absolutely delighted to welcome Andy on board as our new guitar teacher! Andy is an exceptional guitarist, songwriter and vocalist. He first picked up the guitar when he was 10 years old – and he hasn't put it down since! Like our other marvellous tutors, Andy's been in the music game a while. His work's been featured on Radio 1, The X Factor, television and video games. He's performed at festivals and sold out gigs. Andy's many years in the music industry has given him an abundance of guitar knowledge that he's dying to pass on to our wonderful students!
Sion Whiley
We are excited to announce there's a lovely new tutor
joining our team! DWA Family, make some noise for Sion Wiley! Sion is a full-time musician with over 20 years experience. With profound knowledge in guitar, sound engineering, music production and mixing, Sion is your best friend if you want to take a trip to the studio. Or play a gnarly gig, which he's done a thousand times. From playing at Land Rover launch events, setting the dance floor on fire at weddings and even appearing at the world famous Isle of Wight festival, his musical experience is truly unmatched. Not to mention that he holds weekly open mic nights in Newbury for all you local music lovers.
Now, Sion is sharing his talents by offering beginner guitar lessons at Francis Bailey Primary School. Where he used to be a student no less! Sion doesn't just teach you guitar. He tells you how to learn.
Sion uses his impressive knowledge and gentle teaching style to educate your child on guitar, from the ground up. So if you fancy a go on one of the world's coolest instruments (second to drums of course), connect with Sion. You will be plucking with ease quicker than you can say Hendrix.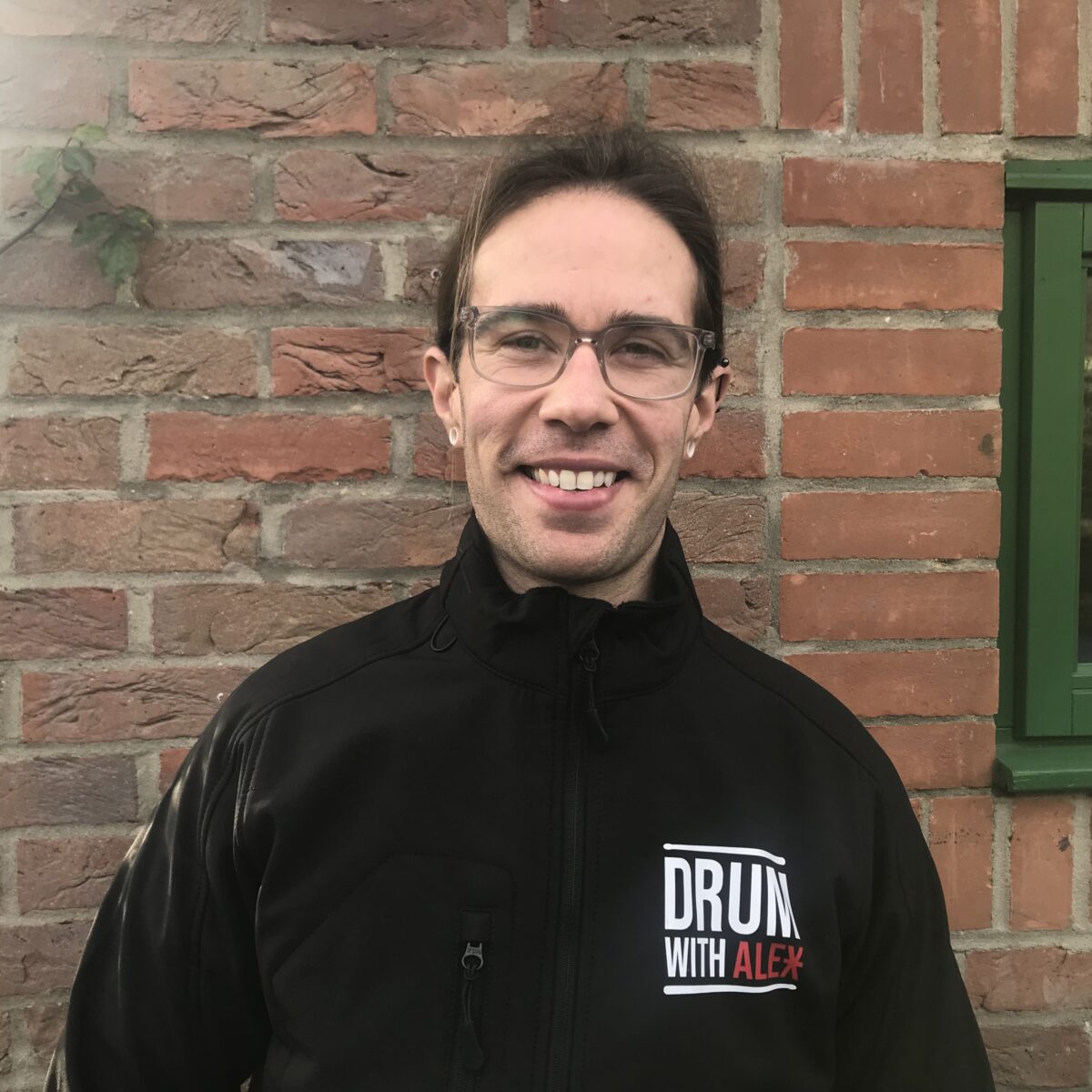 Richard Hawkins
Attention Drum with Alex students! We're thrilled to announce that we've got a brand new tutor joining our ranks. Please give a warm welcome to (drum roll please…) Richard Hawkins!
Richard is doing us the honour of joining our team as a guitar teacher. It was after picking up his first guitar that 11-year-old Richard knew he was going to pursue music. And pursue he did.
After spending his teenage years listening to a plethora of diverse genres and falling further in love with music, Richard set off to the esteemed Academy of Contemporary Music where he achieved a diploma in Music Performance. Since then Richard has taught peripatetically and shared his humongous guitar knowledge all around Berkshire, Hampshire and Guildford.
But his love for music doesn't stop there. Richard also currently plays with and manages an impressive number of talented bands-for-hire and frequently composes and performs original music with a group of his close peers that work in the music industry. Richard understands the ineffable joy that one gets from creating, playing and practising music and is keen to help students realise this wonderful feeling through his gentle, precise and informative teaching techniques. Music is (evidently) one of the great loves of Richard's life – so we feel lucky and delighted to welcome such a dedicated, passionate and talented tutor into the DWA Family!